Smart Movie Player v4.15 + Converter (2011) Latest Version 100% Worked Registered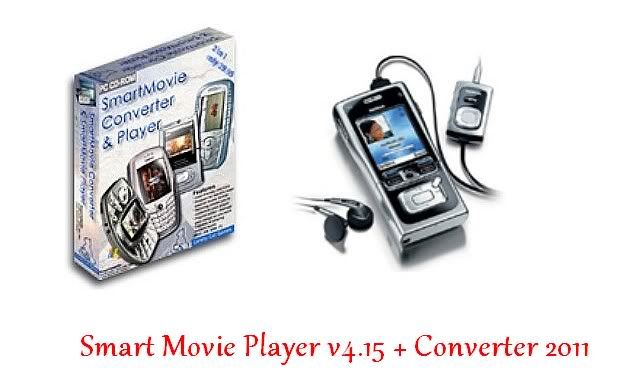 Smart Movie Player v4.15 + Converter 2011 | 2MB
SmartMovie is a popular mobile media player from Lonely Cat Games .Lonely cat Games has released an updated version of SmartMovie player , SmartMovie 4.15 .SmartMovie can play DivX ,mpeg4 and Xvid formats with maximum quality. The standard format for playback is AVI ( DivX) . But there are softwares like DivX player that can play this format for free .From version 4.0 , SmartMovie added support for MP4,3GP and FLV . So now you can play Youtube video files (FLV) in SmartMovie player 4.15.
Features
* Standard AVI format, allowing you to preview converted files on your PC * Also plays MP4V, FLV and 3GP file formats * Player uses the phone screen in portrait or landscape mode, utilizing the full screen size of the device * Rescaling of video to utilize the full screen area * Support for subtitles - allowing you to watch movies in different languages * Quality rescale algorithm in player, delivering best possible picture quality * Customizable video player (brightness, language, volume, and more) * User-friendly interface - watch movies, don't waste time configuring obscure settings
SmartMovie player 4.15 supported Nokia mobile devices
Nokia: E50, E51, E55, E60, E61, E62, E63, E65, E66, E70, E71, E75, E90, N71, N72, N73, N75, N76, N77, N78, N79, N80, N81, N82, N85, N86, N91, N92, N93, N95, N96, N97, 3250, 5320, 5500, 5630, 5700, 7730, 5800, 6110, 6120, 6124, 6210, 6220, 6290, 6710, 6720,Nokia: 3230, 6260, 6290, 6600, 6620, 6630, 6670, 6680, 6681, 6682, 7610, N70, N90, X800 .
SmartMovie player 4 supported Samsung mobile devices
Samsung SGH i400, i450, i520, i550, i560, G810, L870, I7110, INNOV8
SmartMovie player 4 supported LG mobile device
LG: JoY, KT610
SmartMovie player 4 supported SonyEricsson mobile devices
SonyEricsson W960i,G700,G900,M600i,P1i,P990i,W950i,P800,P900,P910.
Note:
Install "Smart_Movie4.15.sisx" Then install "Crack.sis" No need to sign anyfile. Enjoy full version